---
First swim gala for 2023
February 2023
We praise Gid for the Eswstini swim association sponsoring us for two one hour swim lessons per week at Mavuso trade fair in manzini. We have 16 teenagers and children in swim lessons starting with teo year old sakani then Hepzibah and nehemish are the senior advanced swimmers and Apphia just behind them hopefully she will join the next swim gala. We need help with paying the swim coach for lessons so if anyone knows where to find supporters for swim lessons we will be delighted!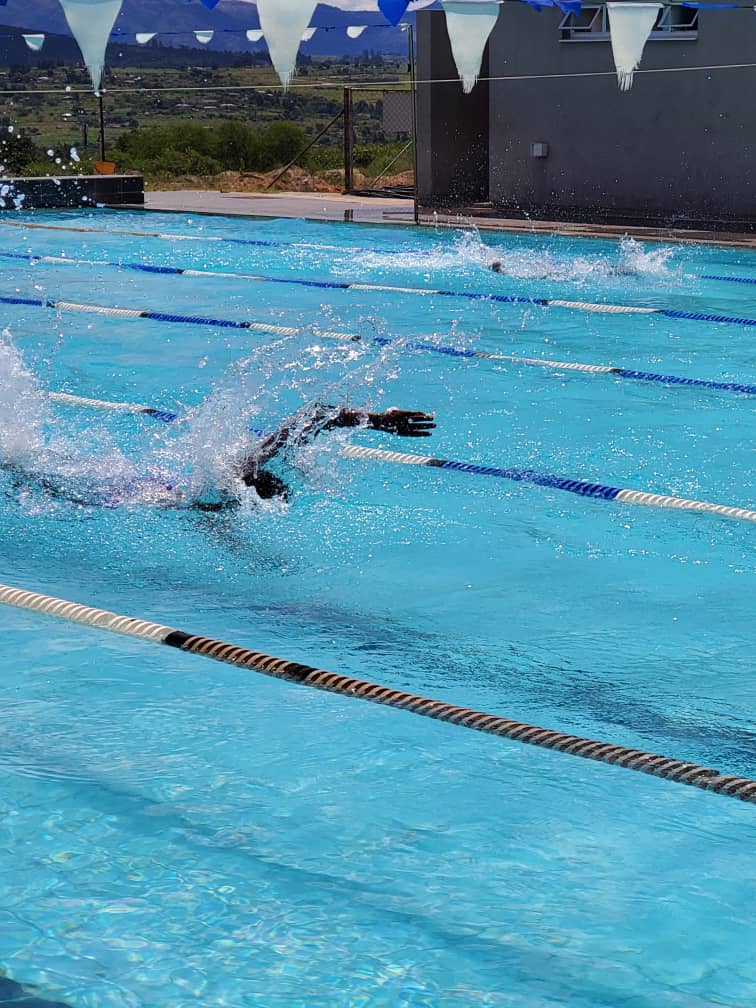 ---
A Weddeing at Bethany Mountain
Saturday December 17, 2022
Husband and wife Babe Bongani Masilela and Mrs Nelsiwe Masilela Saturday December 17, 2022. At new hope centre Bethany Mountain, our former big boys caregiver was married at our tabernacle of Praise.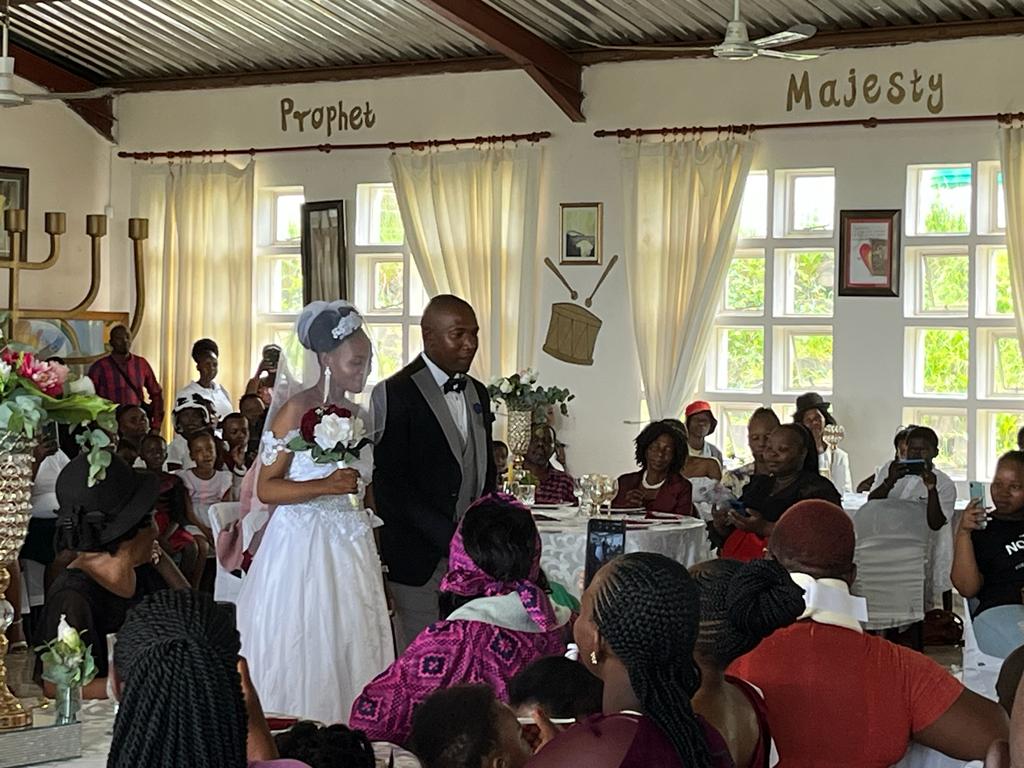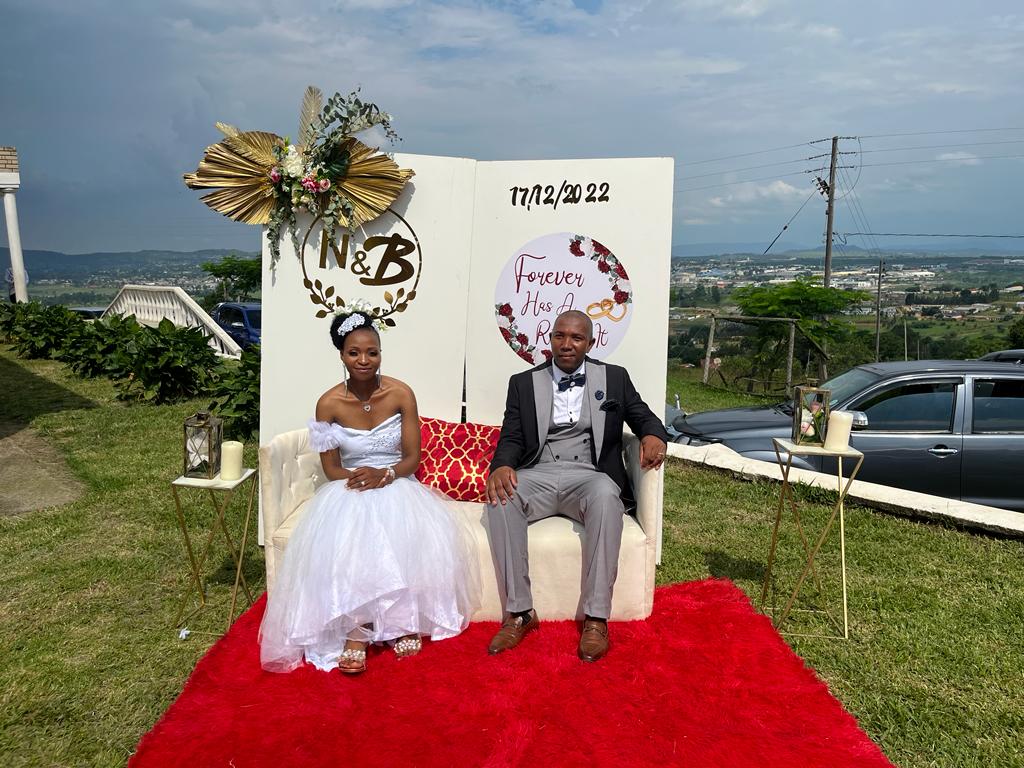 ---
Birth of a baby calf
December 20, 2022
Praise God of Winters baby calf born last week and doing well with his mother, his name is Emaculate so we call him "Emac"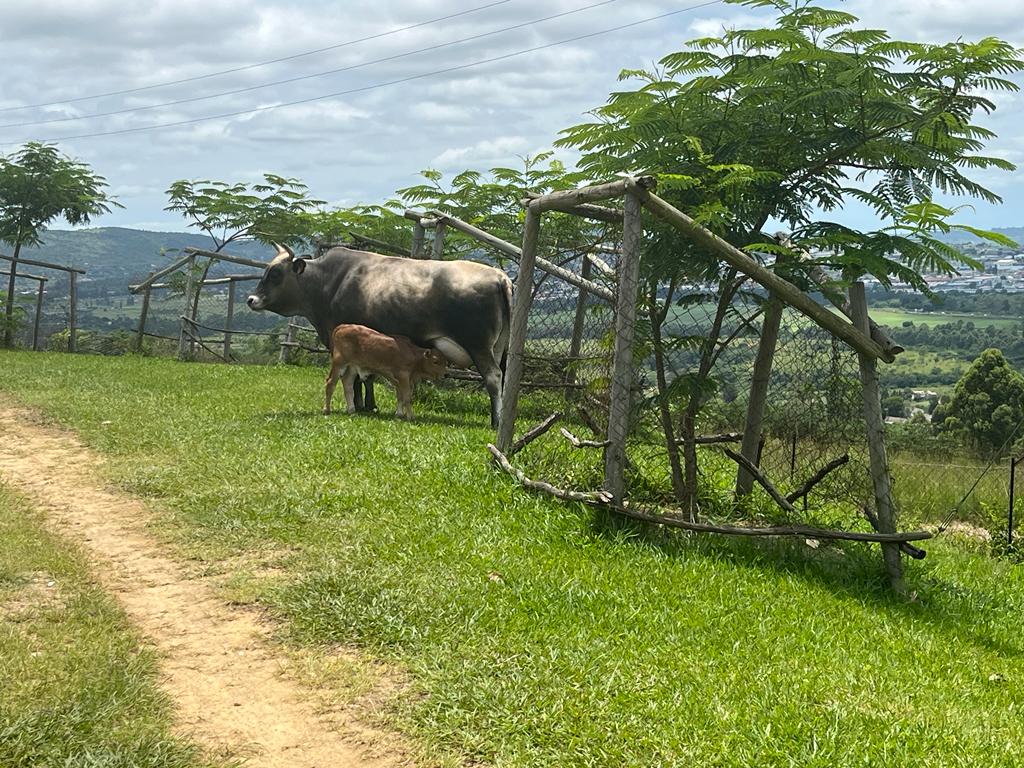 ---
Thanksgiving Celebration
October 22, 2022
A day of thanksgiving and celebration between YKK and New Hope Centre. The Japanese zipper manufacturer YKK visited New Hope Centre for a day of celebration. YKK have kindly given New Hope Centre a multipupose sports course for basketball, tennis and volleyball, six-a-side soccer and net ball. The initially gave us the court in 2019, but then COVID shut things down. It is now open for use to share with Bethany mission school and the children of our community
---
Holy Convocation of the Feast of Trumpets
September 2021
In Leviticus 23, the Lord spoke to Moses, inviting His people to meet Him annually on seven appointed times to proclaim each of these as a Holy Convocation. These celebrations were to reveal the ways of God in guiding His people and from Moses times Israel has honoured Gods invitation to remember what He had done for them historically and prepare themselves for the fulfillment in history. The first three feasts were fulfilled when Jesus came as the Son of God to be slain as the Lamb of God and to rise again after three days and ascend to heaven. The fourth feast (Umkhosi) celebrated the coming of Gods Word on Mt Sinai and was fulfilled at Pentecost on Mt Zion when God's Spirit was poured out and His Word written in the hearts of man. The fifth, sixth and seventh appointed time remains prophetic as they are concerned with the Return of Christ or the Second coming (kubuya kwaNkhosi). Israel continues to celebrate and honour these last three Feasts prophetically and as the people of God born of His Spirit we too can enter into these prophetic appointed times until they are fulfilled and in so doing prepare ourselves more realistically in depth of understanding and revelation for the soon coming King.
This past week at New Hope Centre we called the Holy Convocation of the Feast of Trumpets(the fifth appointed time). Throughout the week daily in chapel John Abraham prepared a schedule of scripture themes or five days to prepare everyone to bring a deeper understand and fuller meaning to the event(Leviticus 23:23-25; Psalms 89:5,Ephesians 5:8-14; I Thess 4:16-18; I John 1:5-8). James Abraham the art teacher helped every child draw paintings or sketches of trumpets or shofar to decorate the Tabernacle of Praise; Jedidah Abraham prepared and led a joyous anointed time of worship and then everyone had come with their shofars(khudu horn or Umphondvo seShongolola) and we were blowing them bountifully. It sounded like a football game but the ball was the focus on the king of glory.. . for His soon return with the Trumpet Shout of the Archangel in the sky. Keziah Abraham prepared the seven candles in the Menorah (seven candlesticks)representing the 7 churches of Revelation and the seven Spirits of God before the throne. The glory of God was awesome n the place, Eswatini arise and shine for the Light has come and the glory of the Lord is risen upon you.
This week is the sixth holy convocation or Feast of the Atonement, a solemn appointment to prepare ourselves for the judgement times: Isaiah 49:5-8 and Isaiah 53; Psalms 22 and Psalms 110: Hebrews chapters 5,6 and 7 explaining how Jesus qualified as high priest, the better and final sacrifice to make us Priests and Kings in the order of Melchizedek. Emaswati look up for your redemption draweth nigh, how much God Almighty loves us as a people, how much has He moved heaven and earth for us to come into the full knowledge of our purpose and destiny. Next week is the final set appointed time, the Feast of Tabernacles (Succot). Give us a call if you want to join us one evening at New Hope Centre (2518 5304)
Creative Expression
September 2021
Miriam displaying her creative fashion design as she made her formal gown and water colour expression of her inner radiant self.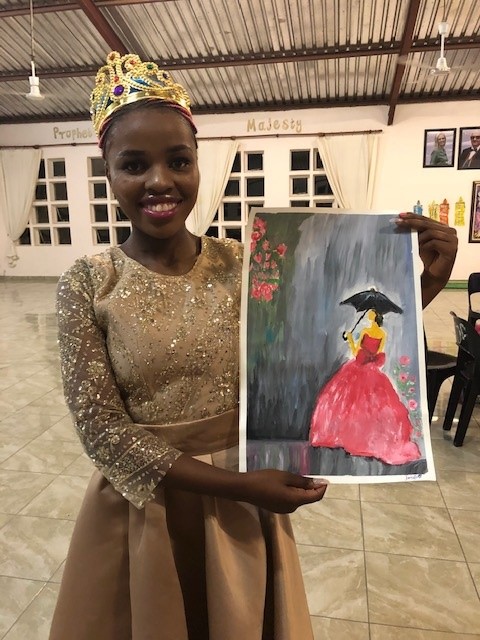 ">
---
Transformed Storage Container
The storage container from Canada got a creative facelift and has a touch from everyone!
September 2021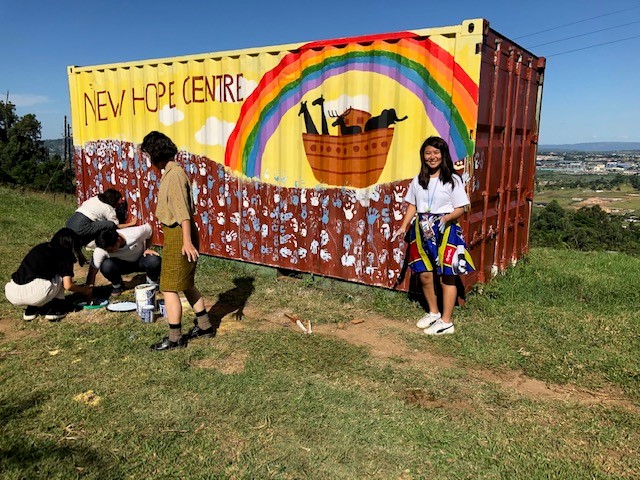 ---
Miriam's Graduation
Friday 4 th June 2021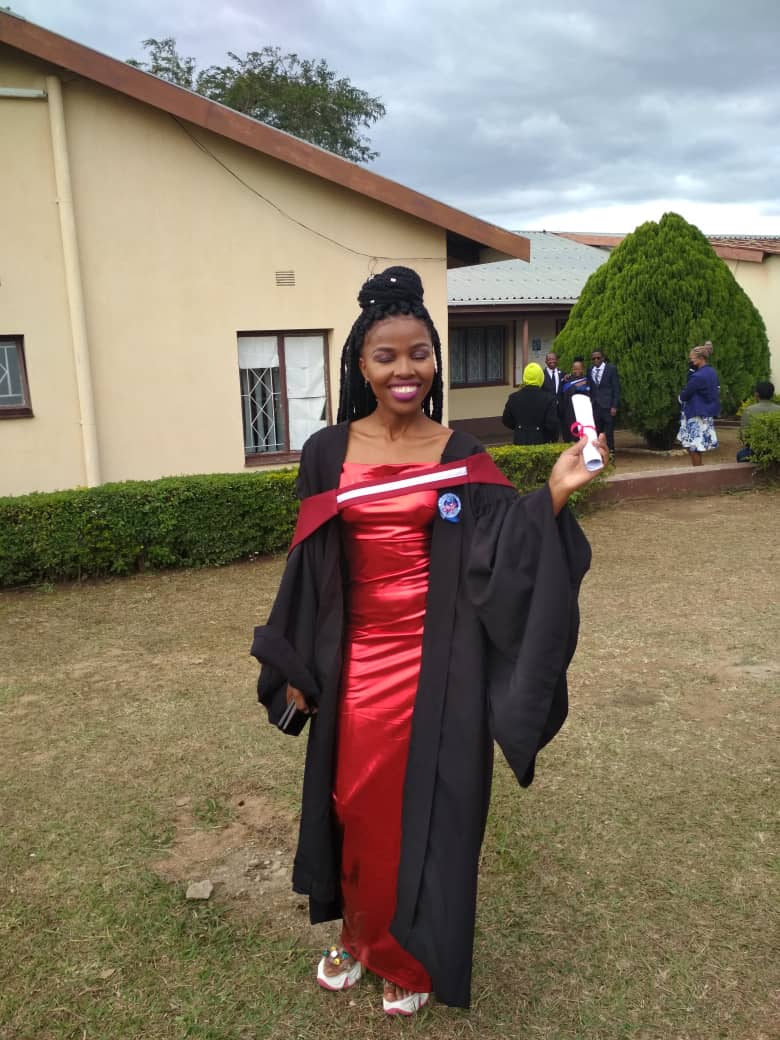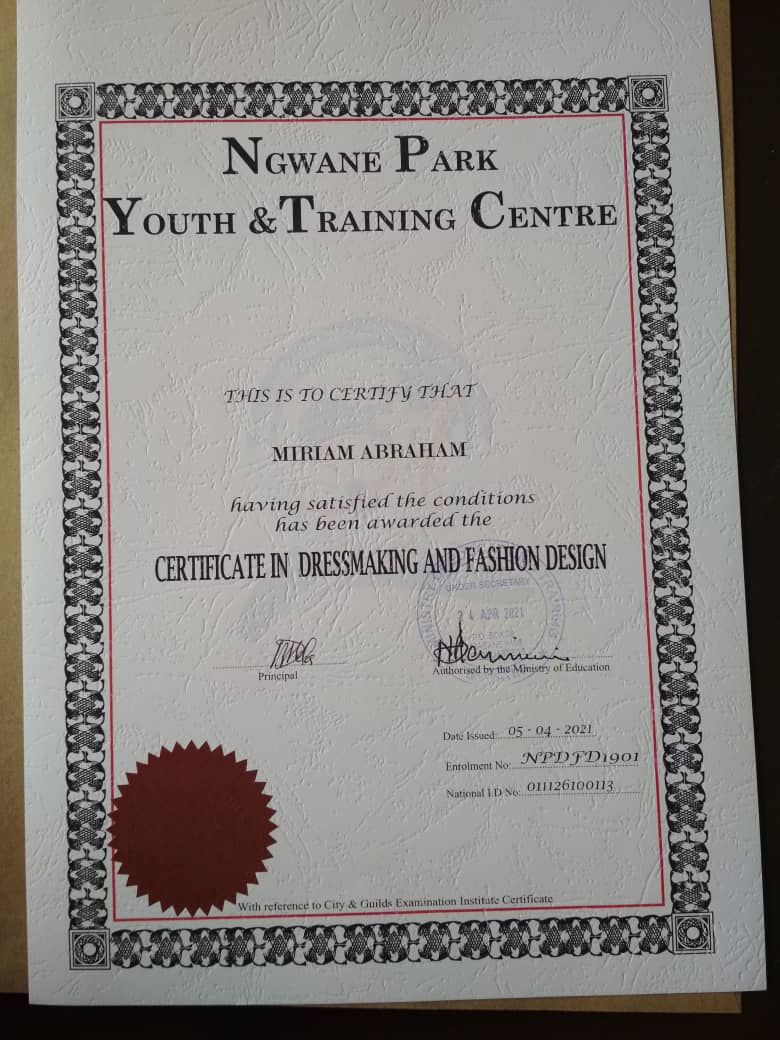 ---
International Student Convention 2021
May 17 2021
Sunday morning May 17 we arrived in USA for a dream come true snd many hours of training and preparation. This photo is the border post at mama shah crossing between the border of Eswatini since our countries were neighbors and on same covid code mauling it possible for us to reach the USA. We had left Bethany at 6:30 yo take the shuttle to mozabigue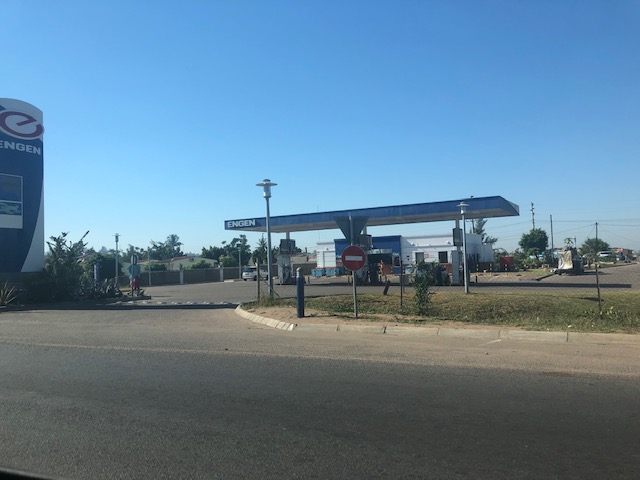 ---
Ethan arrives in USA
October 2021
After months and even years of training Ethan had won a nomination for piano solo to represent at the All African Student Conference during October 2021. He had studied music practicing every day. Here is Ethan, somewhat exhausted after driving 4 hours to Mozambique then after 28 flying hours. We thank Lisa Crouse and Whitney hosting Ethan Abraham and Dr Elizabeth hynd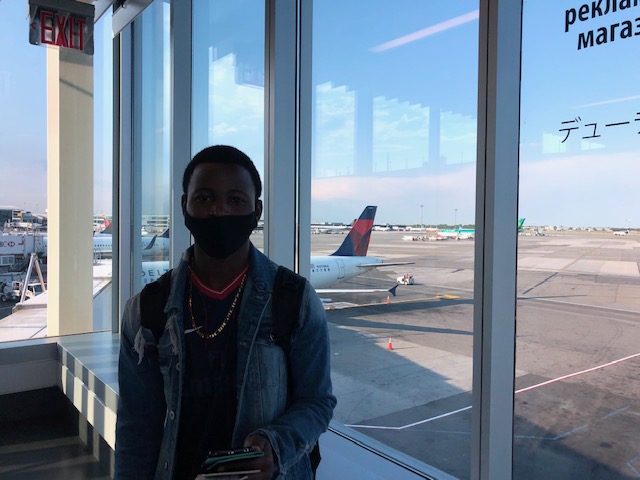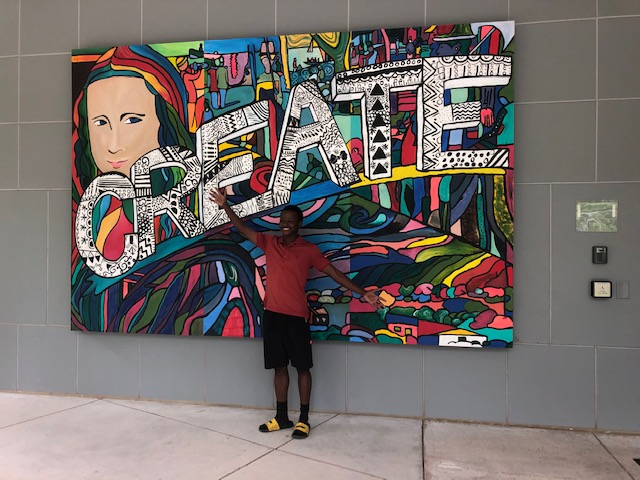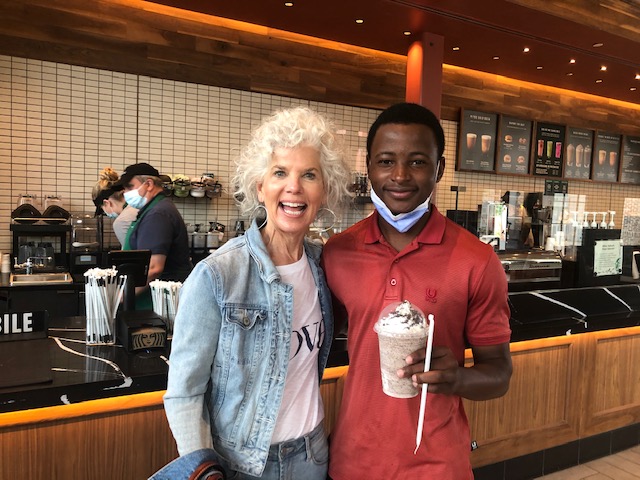 ---
Christmas 2020
Merry Christmas and a happy Birthday to King Jesus born in Bethlehem of Judea( the West Bank of today) ). He was born in a crowded city as everyone had come to their home town to be taxed but today in 2020 Bethlehem is deserted due to covid lockdowns( who would ever believe) even in Eswatini we are in lockdown n no cars are permitted in the roads after 7 pm over this Holy weekend, but we praise God that we are a big happy family a big bubble of safety from covid far from the city on a beautiful mountain called Bethany( the place if abundant dates)
All month we have gathered each night to light the advent candles, read and discuss over the scriptures pertaining to the promised a messiah and soon coming King of a kings, schools closed a couple weeks ago and preparations began for the party of the year, shopping for gifts for everyone thanks to wonderful friends and sponsors who sent us moneys to be able buy for one another: shoes socks school uniforms t shirts and pajamas, then shopping for Christmas Dinner with Chloe and Auntie, thanks to special gifts from friends who have visited us in time's past and wanted to ensure we could celebrate the coming of the baby King Jesus with scrumptious food, a huge cake and even a trifle pudding, we thank each snd everyone who gave that we may be able to celebrate.
Tabitha returned from college in Cape Yoen eith brilliant drama dance choreographed production of the Christmas story; Miriam came hone from fashion school and pulled costumes together for the family Christmas drama which we would usually have presented at church but not in a covid 19 affliction year. Samuel back from YWAM in Hawaii, and Tabitha helped prepare presentations of dance snd song as presentations of our joy and adoration to God our Father gor sending His Son as Saviour yo the whole world, every tongue, tribe snd nation.
Joseph and chloe and team of volunteers with Debrahs oversight prepared Christmas dinner for 50 people. We still appreciate Ms Lindsey's Christmas Dinner and preparation booklet and uncle Jason's trifle recipe and training. We thank John n Caleb n their team for decorating the Star of David on the main house and the lights on hedges. We thank auntie Annie for getting lights in South Africa because none were available here, we had the nativity scene at the front gate throughout advent but brought it on stage for the Christmas Eve drama dance and celebrations,
The evening began with the shofar blowing and lighting of the 7 menorah candles snd the four advent candles reading from the gospels and revelation to focus our thoughts snd meditations. Then Miriam opened the gift of talents presented to honour king jedus with a poem,Jedidah a solo song, Apphia a solo piece on the piano and then we blessed the dinner and enjoyed the delicious traditional foods before continuing with the program. The whole family were involved in the Christmas drama dance, Tabitha sang magnificently a solo, hannaniah dance, azariah danced and they played piano solos and the finale of the night was solo piano piece from Mozart by Ethan. What talent what joy,
We took a break snd ate trifle before proceeding with an hour of games led by Joseph and Hepzibah, then watching the Christmas Carol movie before celebrating communion together using a glass of grape juice and piece of Jesus birthday cake while lighting the Christ Candle. Truly He is the Saviour, the Light of the World.
We then opened all the gifts and especially the surprise gift boxes from Auntie Debbie who is sms Tracies aunt living in Johannesburg, she has prepared special gift boxes each year and Phillippa with auntie Annie drove up to Johannesburg to collect them in time, this was no small endeavor as the two had to take covid tests to pass through the border.
Christmas night we were blessed with tons of soaking doggy rain without the drama of lightening thunder hail or power outages hallelujah. So we awoke to a beautiful clean world of gentle yellow sunshine on Christmas morning, we jumped into the Toyota quantum a gift from Brandon in Missouri USA two years ago and the Isuzu van a gift from the Fungs in Hong Kong 17 years ago as well as auntie Annie snd auntie Elizabeth's cars, to attend a sweet gentle service of adoration of our beloved Lord Jedus at the Swaziland college of Theology where Debrah is a fourth year baccalaureate student in Theology. Right after the two services (social distancing snd masks) auntie drive Debrah to Manzini as she was preaching live on national voice of the a church Radio for a radical message challenging us all to have our hearts ready for Christ's return as Simeon and Anna were ready snd in tune to meet the Saviour in the temple in his 8 th Day circumcision snd dedication and not to find ourselves asleep as were the citizens of Bethlehem or fibd our hearts cold and dark like king Herod on the night of all nights on earth when the Son of God was born in human flesh and the angels in the heavens announced PEACE ON EARTH GOODWILL TO ALL MEN FOR UNTO US A BABY IS BORN, SON IS GIVEN, THE SAVIOUR JESUS CHRIST EMANUEL (God with us).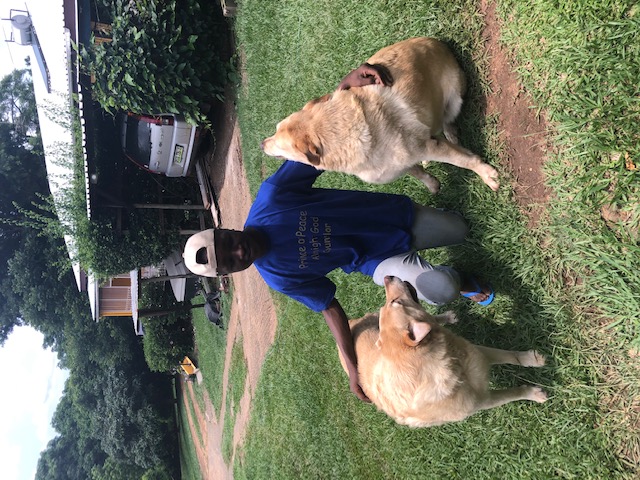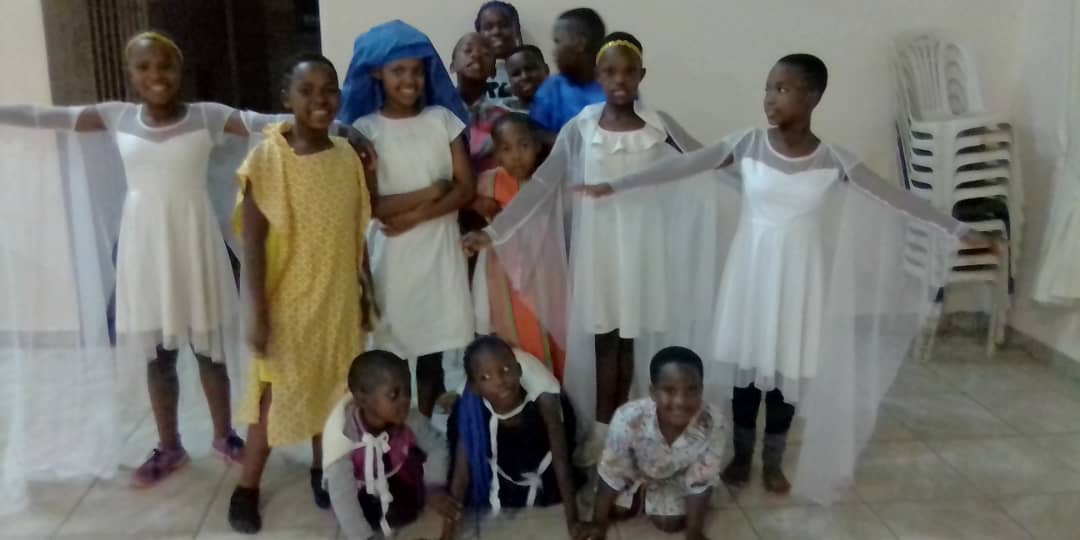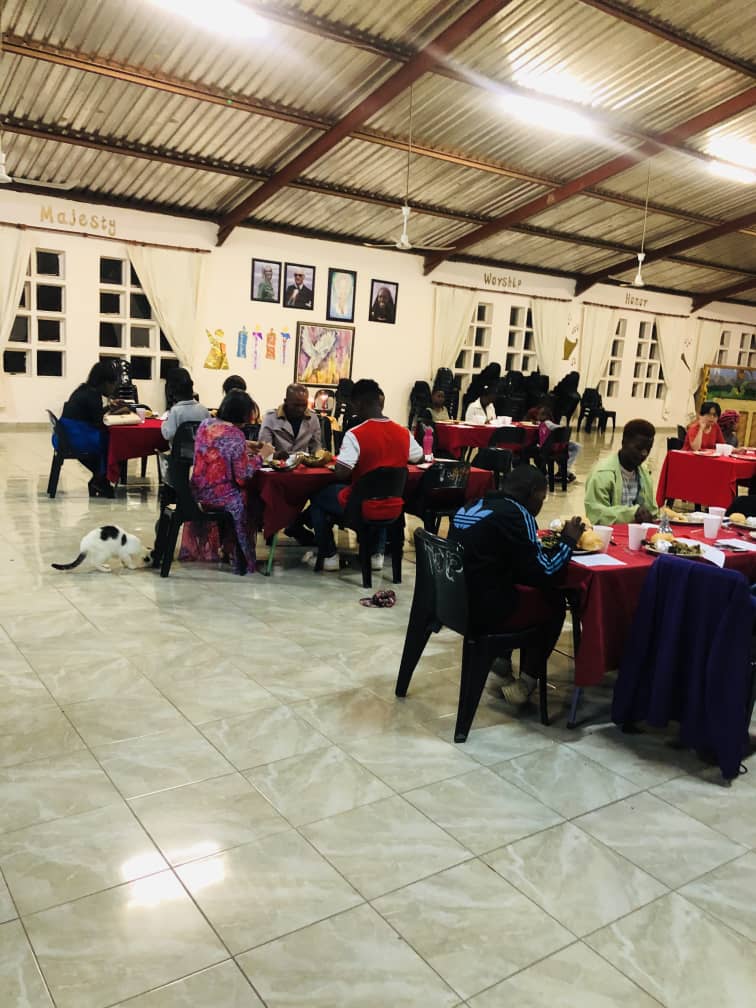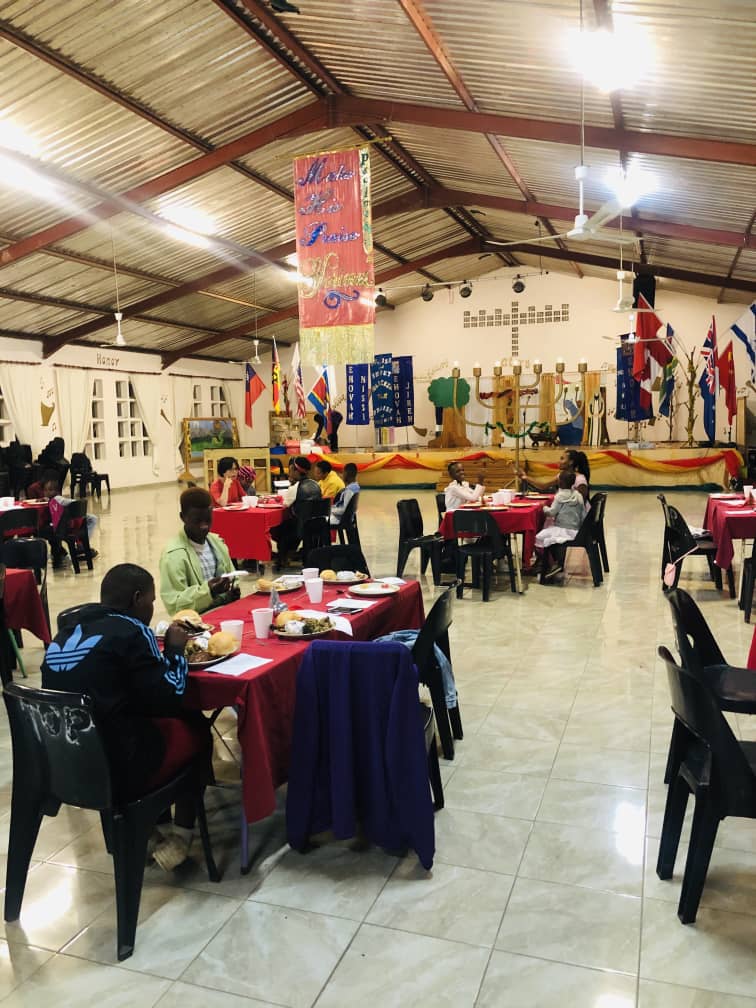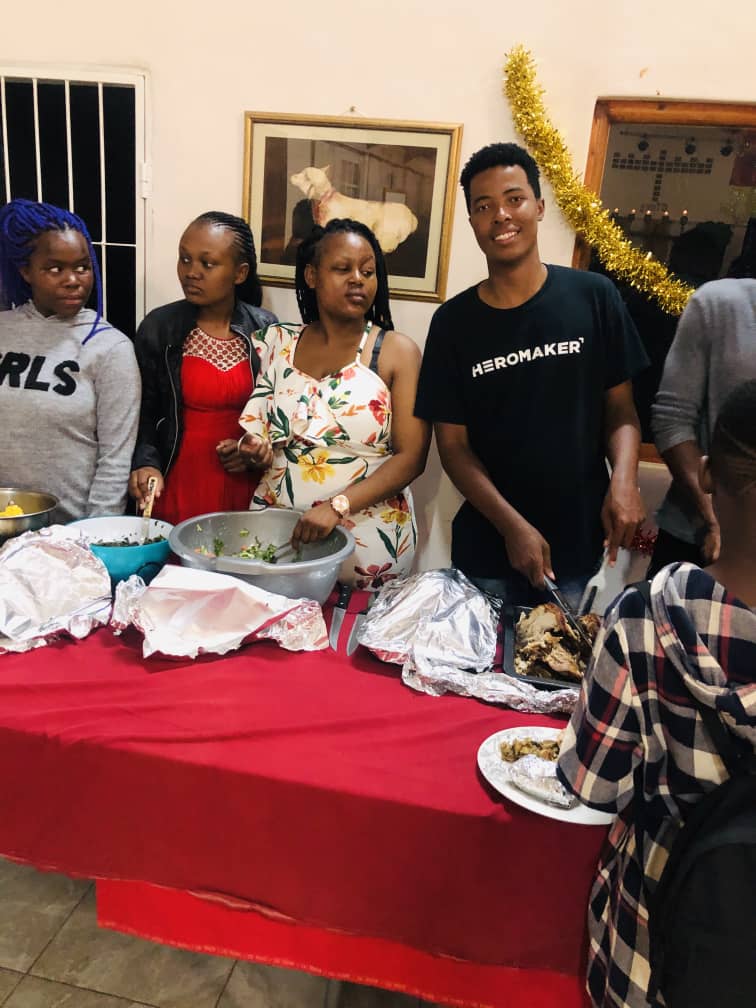 MERRY CHRISTMAS EVERYONE AND A BLESSED GRACE FILLED 2021
---
Creative Shoulder Bags from Waste Packaging
2020
A favourite activity, making shoulder bags from waste materials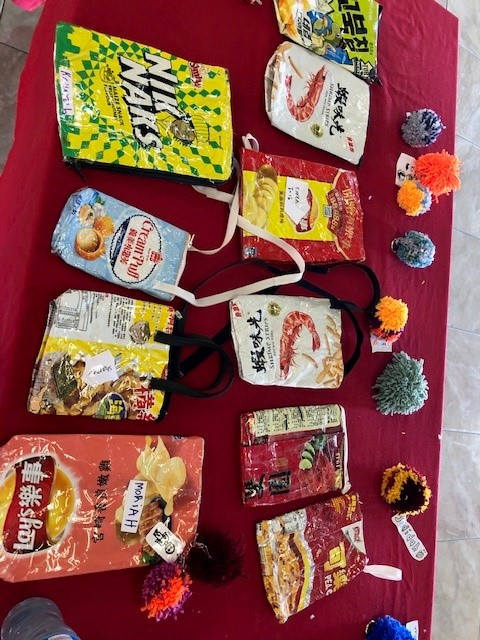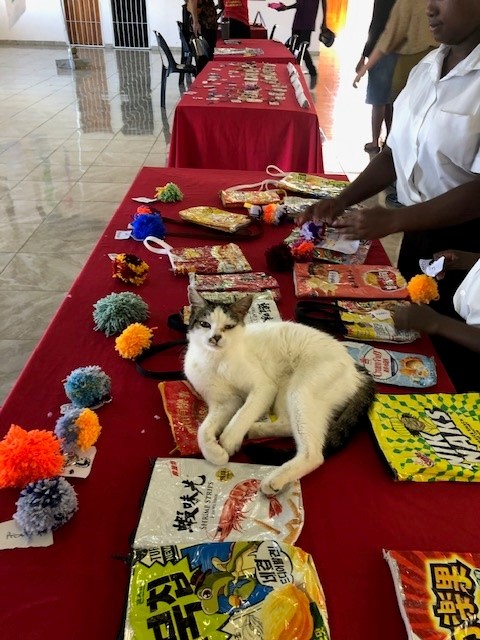 ---
Art Exhibition
2020
A farewell team photo at the end of the Art Exhibition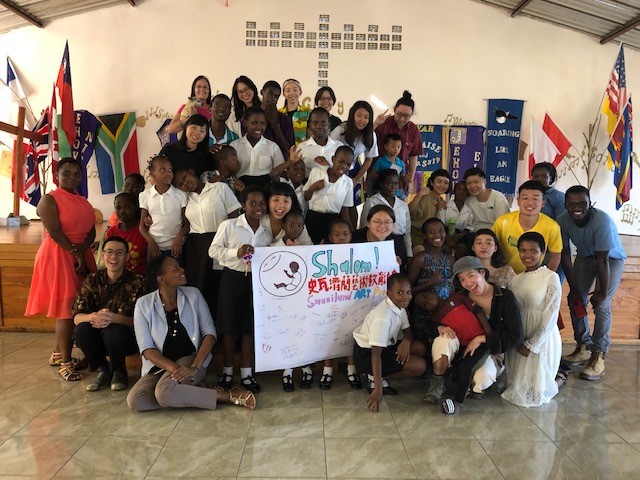 ---
A Fond Farewell to Sandy
2020
Caleb Abraham thanks Sandy in a farewell celebration. Sandy, who came to us from Taiwan, has been our Hope Academy art teacher. What a creative and beautiful, courageous young lady, truly and honour to have had her with us.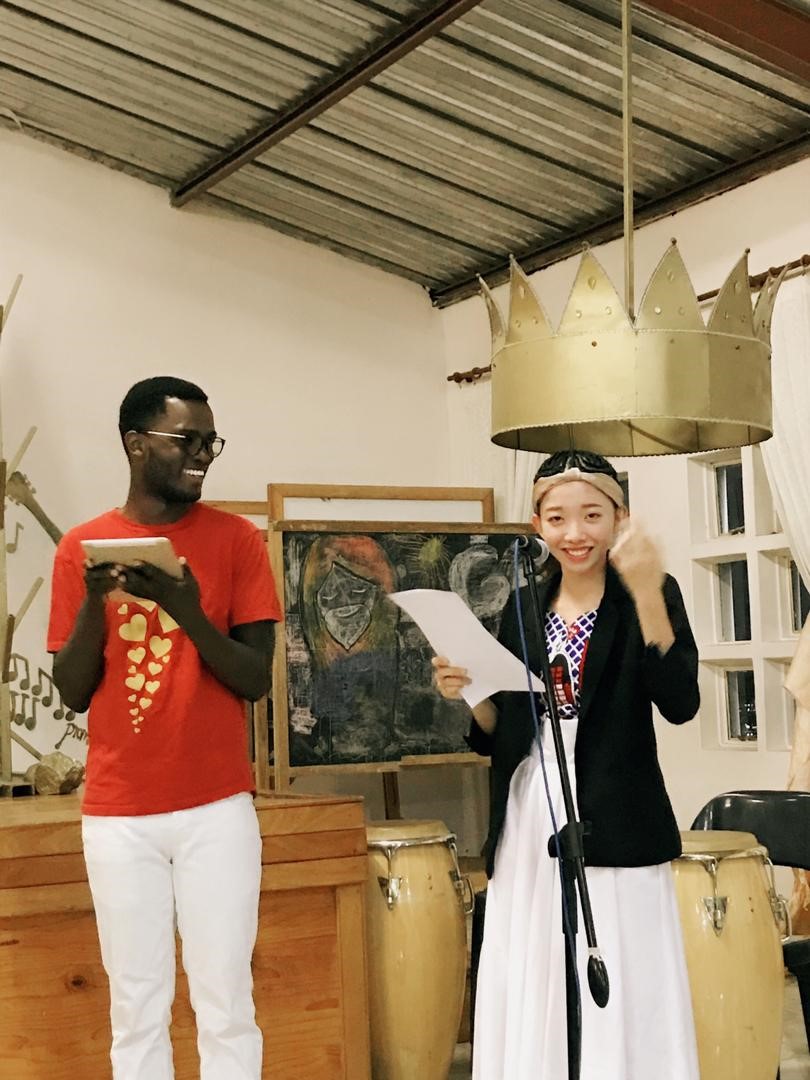 Sunday Worship When Roads Are Closed
Sunday 19 April 2020
We are all alive n well and praise God for a splendid day and a chance to worship him in the splendor of nature when roadblocks make it a challenge to move our family to church
Today is a splendid day as we gathered in the mountain for outside church service. Roadblocks have made it a challenge to get to church as a family so we gathered together n our pastor joined us for the word of God from Ezekiel 37: son of man can these dry bones live? Asks God. He asks us each to asses our situation the seek him for His Word to cause the situation or circumstance to move forward into Gods good and perfect will. So God have Ezekiel the words and he spoke to the dry bones in the valley, the bones came to life at the sound of the words spoken by Ezekiel and they came together and an army strong and mighty rose up, so it is if we will capture Gods thoughts orHis Words and speak them into being do we will determine the making of our lives and our future as individuals and as nations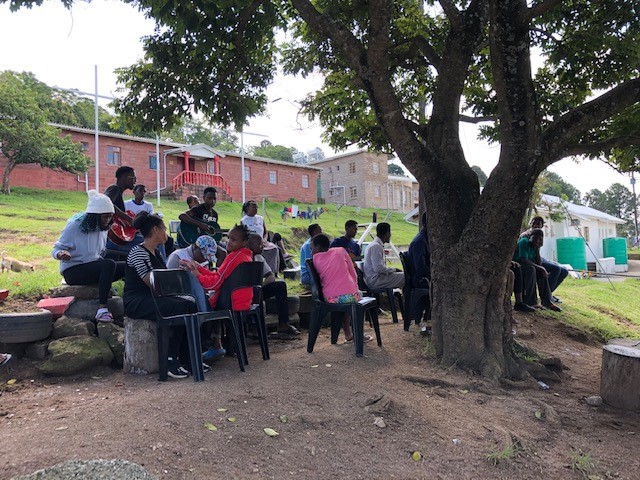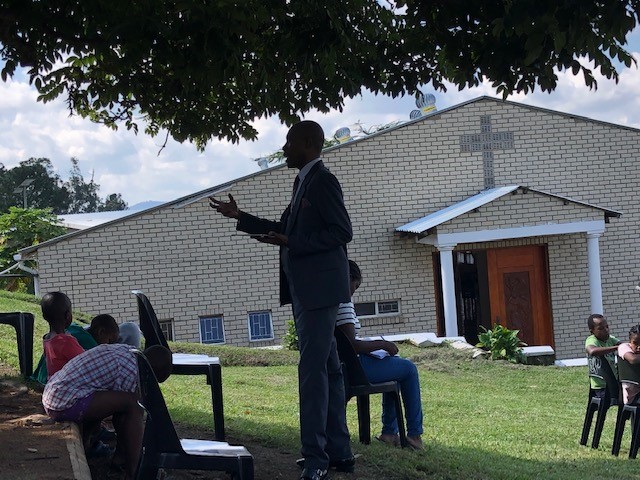 ---
Daniel Fasting
April 2020
21 day Daniel fast during covid 19 lockdown in Eswatini as we have met on the seventh day for three weeks. Sis Ngeti our senior caregiver in the mainhouse and a few others have been praying for Israel for the Church and for our nation during this lockdown. Currently 21 have been diagnosed in the country and one man has succumbed and passed away. We are now in the second 21 day lockdown. We believe this is a wake up call for everyone to evaluate our lives, our priorities, our relationship with God and our relatives, friends and neighbors. May God bring a wave of new life in this season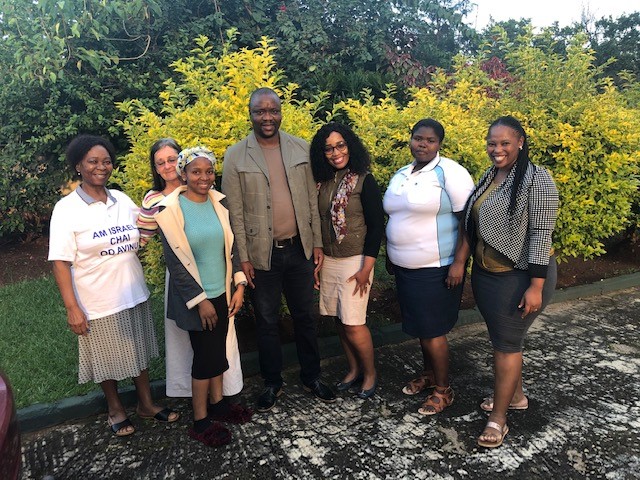 ---
Pentecost 2020 Celebration at New Hope Centre
May 2020
Pentecost 2020 celebration on Bethany mountain outside in the cold night air, temperatures around 7-8degrees Celsius with cloudless clear skies. We have been studying Isaiah 11:2-3 as preparation for Pentecost concerning these seven spirits of God: the spirit of wisdom and understanding, the spirit of counsel and might, the spirit of knowledge and the fear(awe) of the Lord, the spirit of Christ that were seen by the apostle John in Revelations 4:5 and before the throne seven lamps were burning which are the seven spirits of God. So we had huge gas burners giving the concept of the seven flames before the throne of God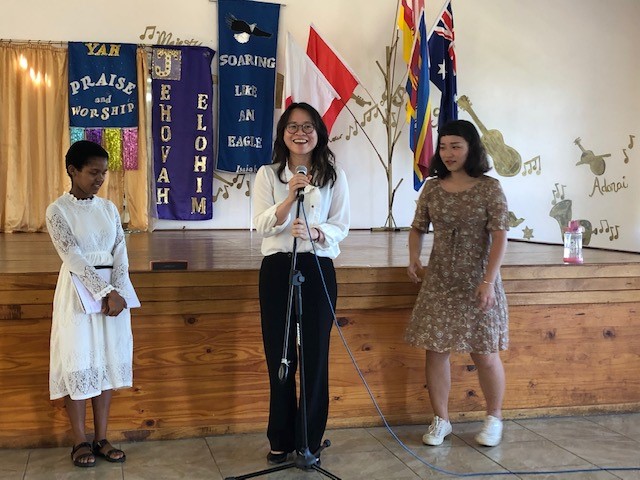 ---
Jemimah leasing as master of ceremonies with Ethan and she opened the evening with the scripture in Genesis 1:2 "the earth was empty and both out void and darkness covered the deep and the Spirit of God was over the face of the waters"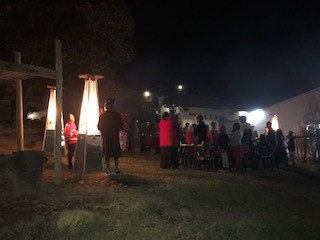 Priscillas dances for Pentecost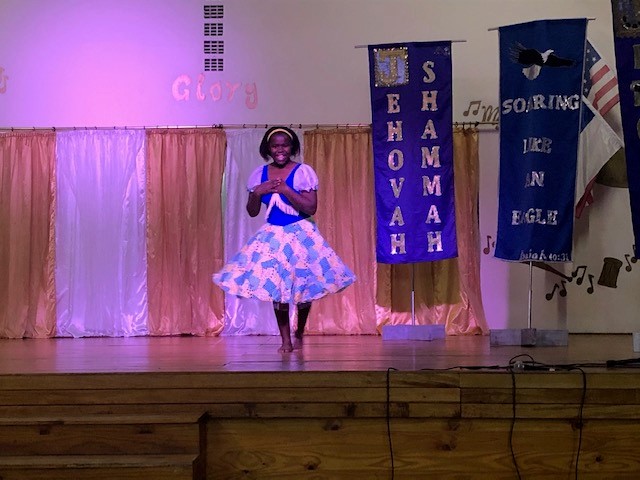 James has painted a dove representing the Holy Spirit of God who descended like a dove from heaven upon a Jesus of Nazareth as He came up out of the river Jordannupon being baptized in water by his cousin John the Baptist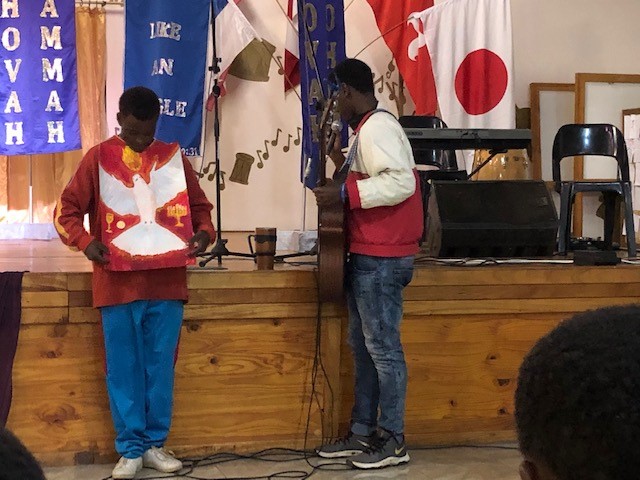 ---
.
---
Palm Sunday
April 5, 2020
We celebrated at home as the lockdown forbid more than two people in a vehicle. Pastor Chaliyumba of Destiny International Church came and shared the Word if God then we took flags and guitars and marched in praise around our entire campus in joyous celebration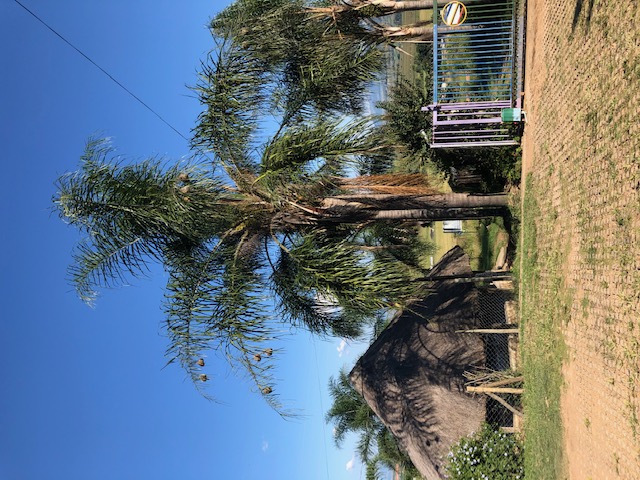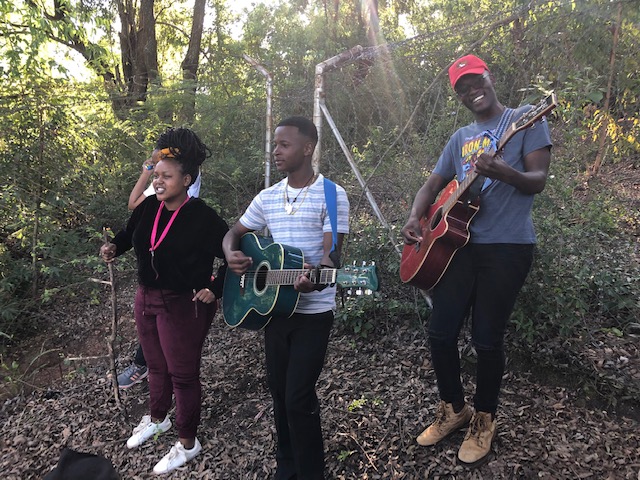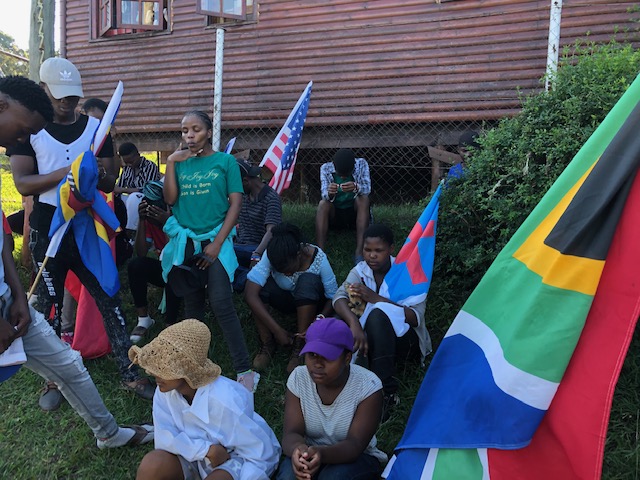 ---
Preparations for Holy Week included two French speaking expatriate ladies coming to give an unexpected blessing of food and cleaning supplies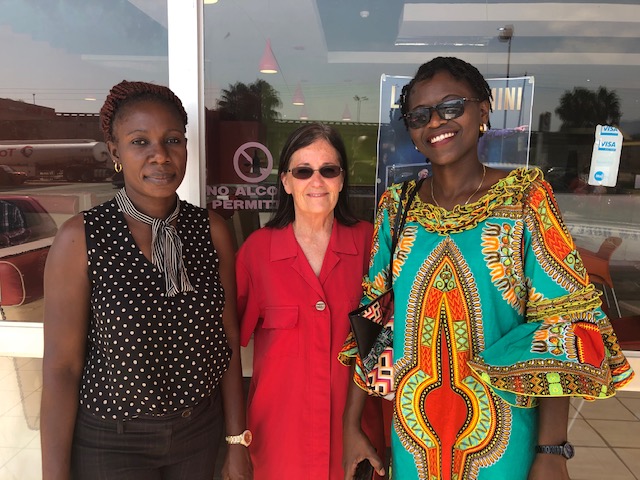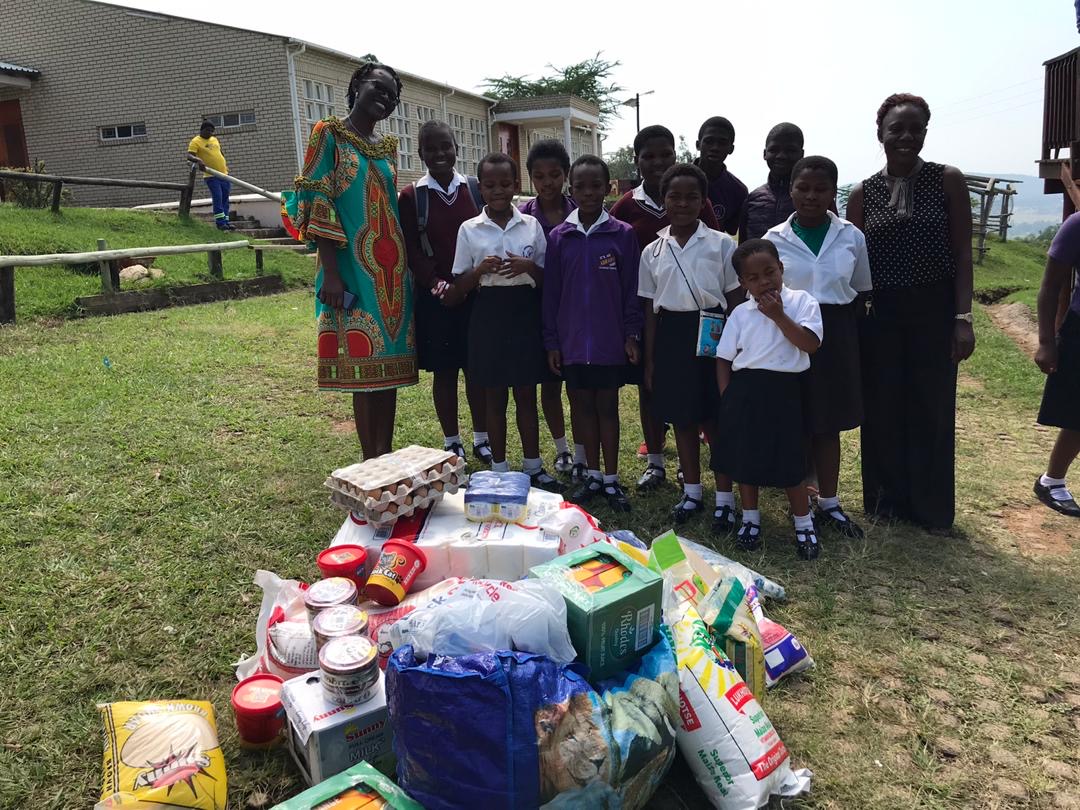 Taiwan Embassy Visit
2020
Representative from Taiwan embassy speaking delight and encouragement to the Abraham family (Apphia is serving as translator).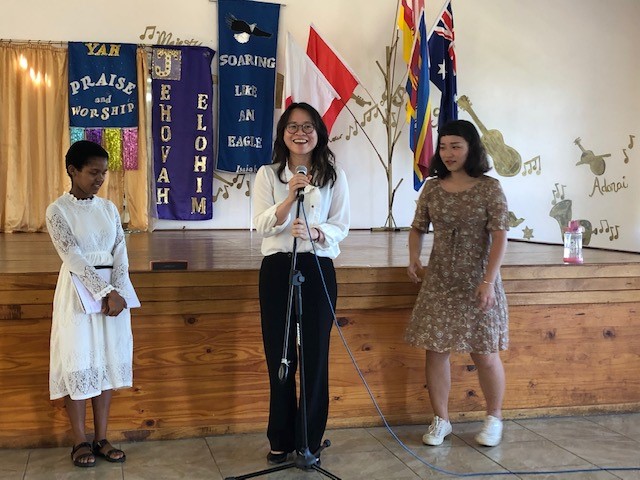 ---
---
Christmas luncheon with Abraham young adults Sunday 22december 2019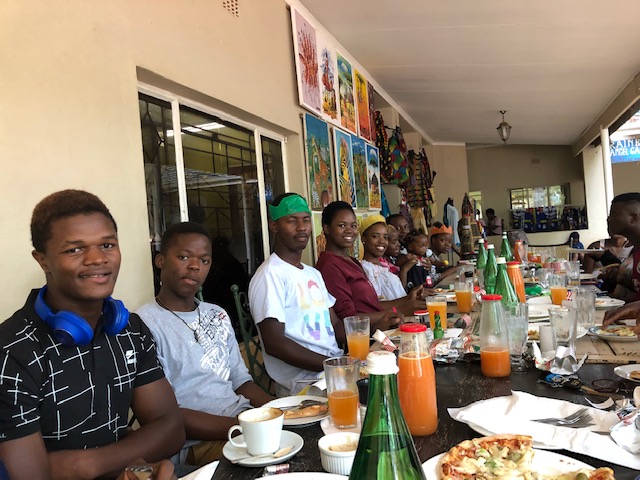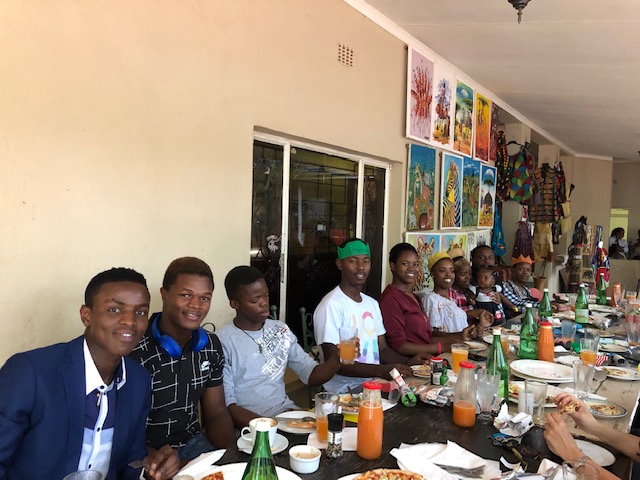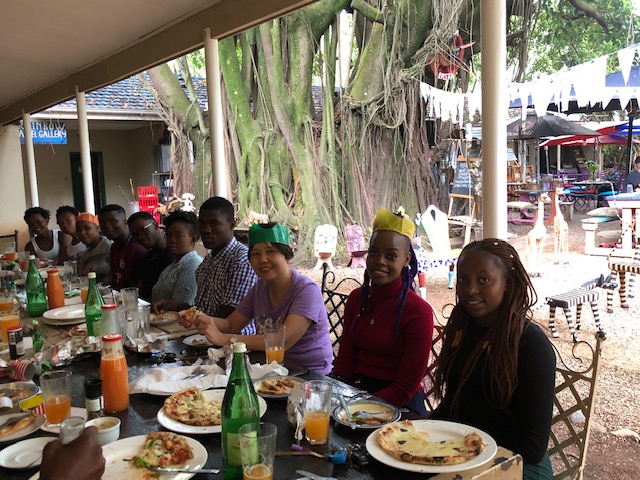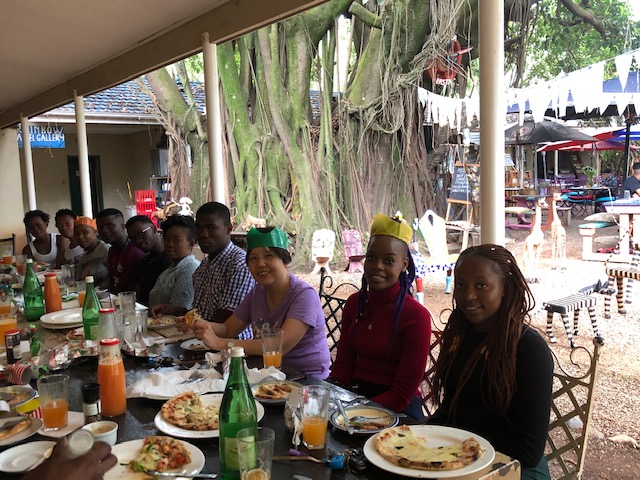 ---
RFM Hospital Childrens Ward in Manzini
18 December, 2019
The Abraham family have been preparing to share the a Christmas story for the past few weeks as schools closed for the academic year. We had graduations and awards then began preparing for the celebration of the birth of the King of the Universe, the babe in a manger, the Saviour, Counsellor, a Child was born whose kingdom will have no end. Practicing, memorizing the script, working out the props and costumes all to be able to present the story to Children who need love and healing.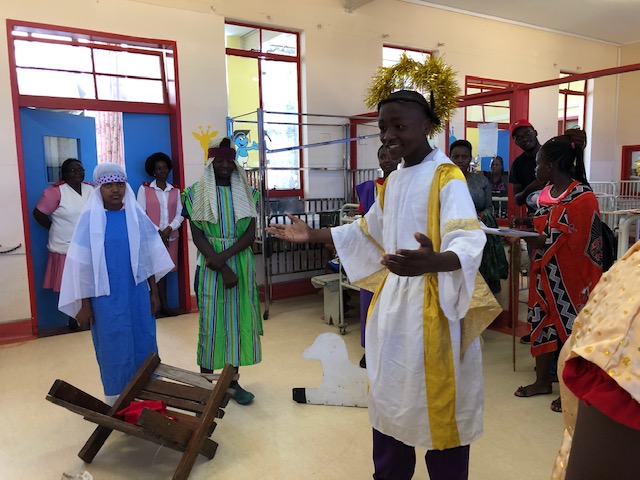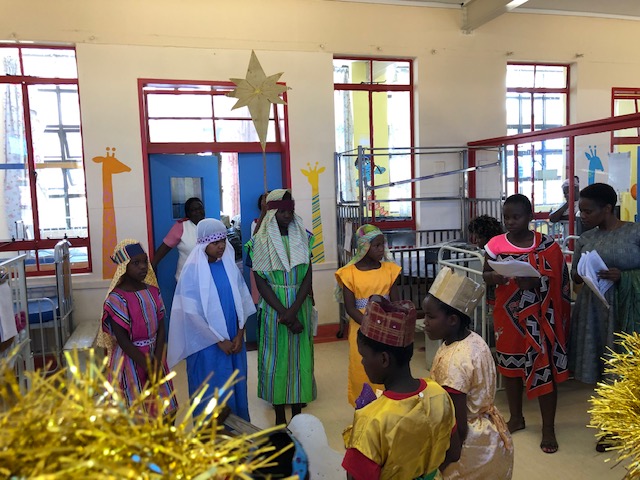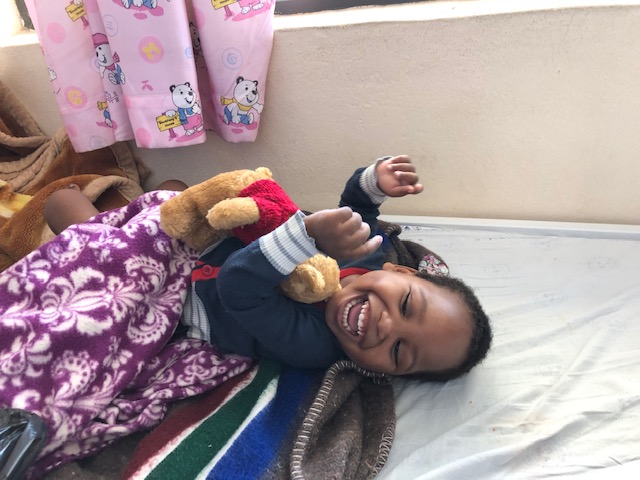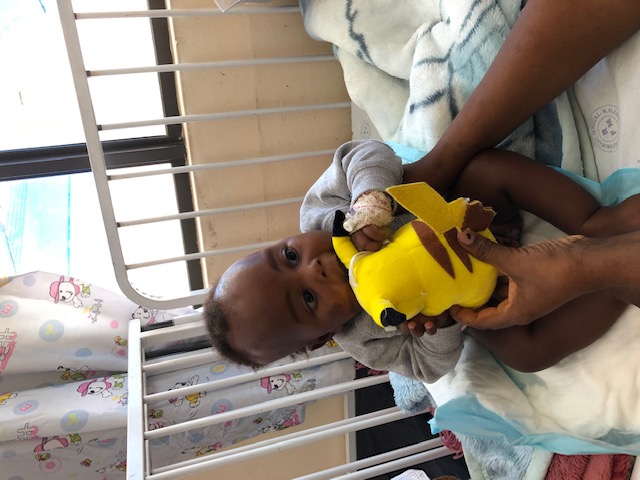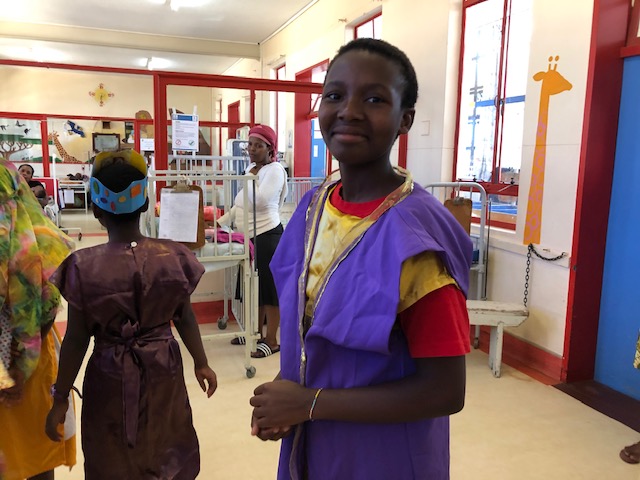 CELEBRATING GOOD FRIDAY
23-April-2019
Good Friday we spent fasting from 9 am to 3 pm as we watched the video of Mel Gibson's movie The Passion. We stopped at each of the seven Wounds of Christ where he bled from his head in great drops of blood and sweat to deliver us from stress and the yielding of our flesh to the will of God. Then his beard was plucked and his face beaten and bruised for our deliverance from guilt and shame; then his back beaten into furrows with 39 stripes for the healing and health of our bodies; the crown of thorns pounded into his head for the redemption of our souls that we can take captive every thought of negativity and destruction and establish thoughts of the hood and perfect will of God concerning us; his nail pierced hands transforming our ability to bless everything we touch to prosper in everything we do and to release the power of healing when we lay hands and pray for the sick; the nsilpierced feet to enable us to be carriers of peace and shalom, taking the territory for the goodness of the Kingdom of God which is joy peace and righteousness and finally his pierced side for the healing of our broken hearts and the exchange of our hardened hearts for a living sensitive loving heart of flesh.
At 3pm we have hot tea and hot cross buns to break the fast then head up to the top of our mountain to pray for the Kingdom of Eswatin.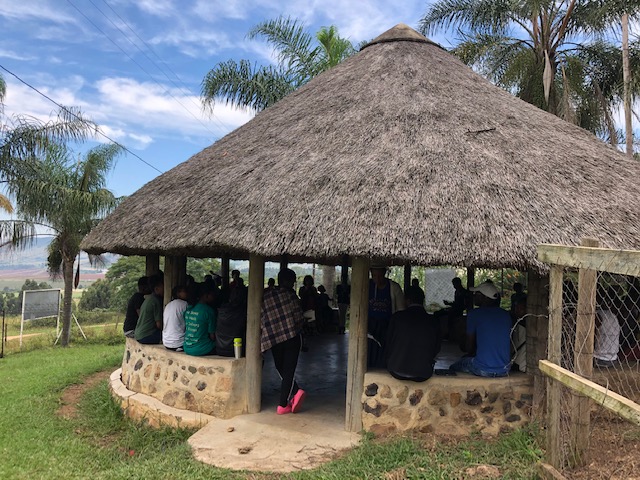 Holy Saturday we gathered under the"Lapha" and prayed together before heading out in two groups to visit each of the 15 stations of the cross giving ourselves the whole morning to stop and ponder and meditate on the meaning of our lives today in reflection of what Jesus was accomplishing through his arrest, trial, crucifixion, burial and resurrection.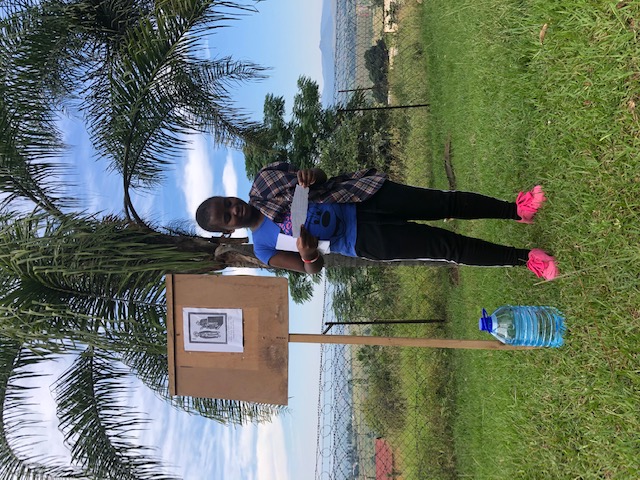 Jedidah led the way: here is a Jesus being condemned falsely to death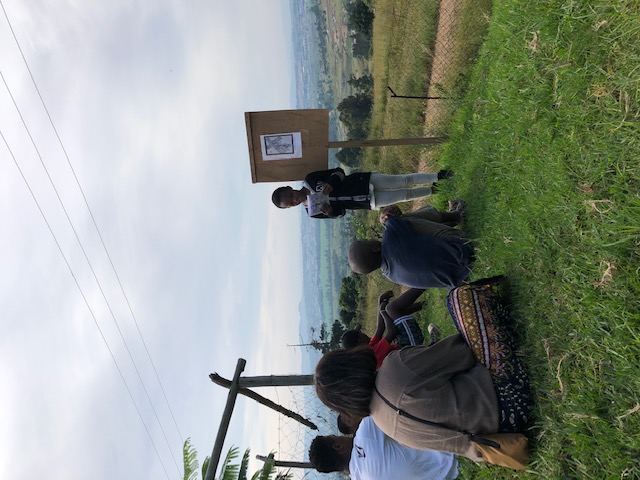 Hananiah leading us in station 2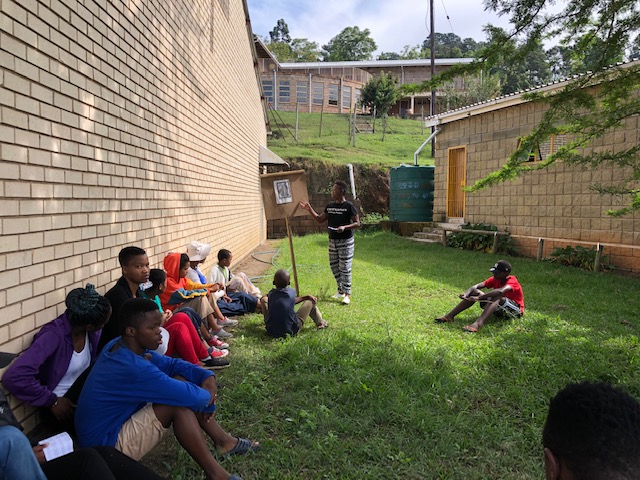 Tirzah leading in at the station between the tabernacle and preschool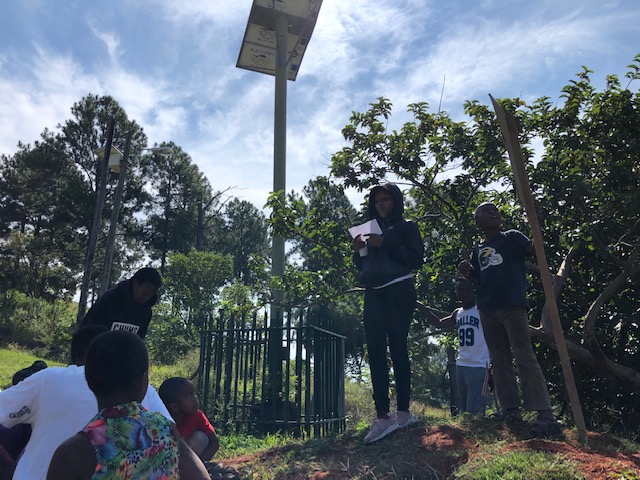 Miriam leading us under the solar water pump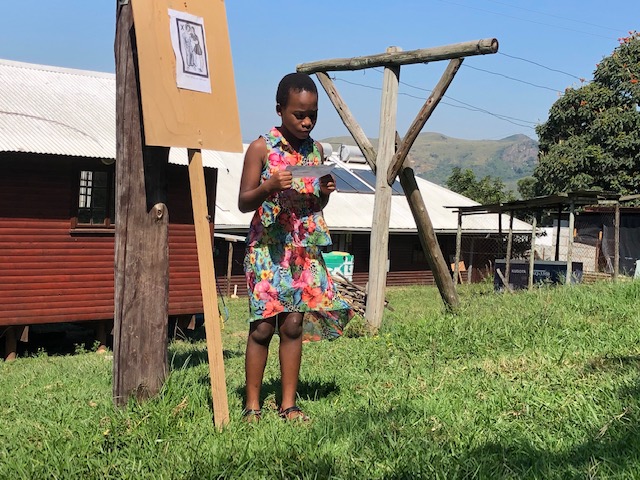 Mishael leading us below the cowshed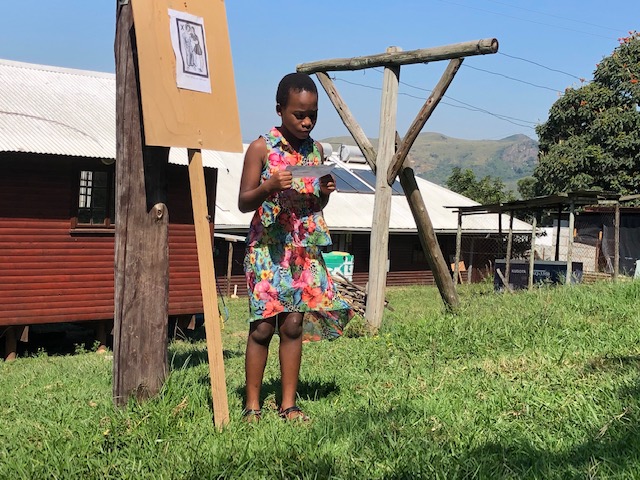 Mishael leading us below the cowshed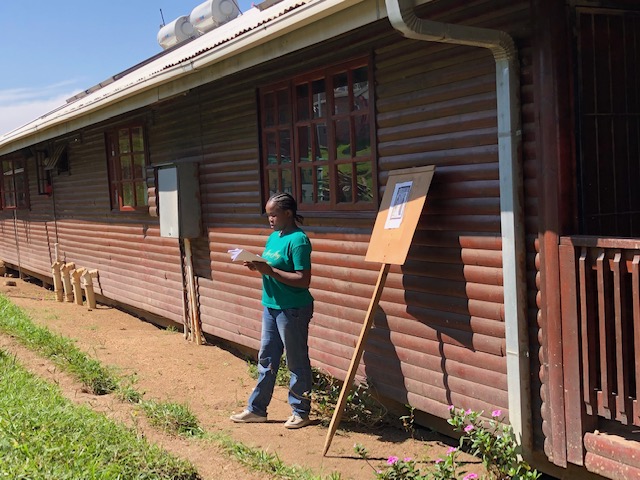 Priscilla leading us beside the main house where the young children live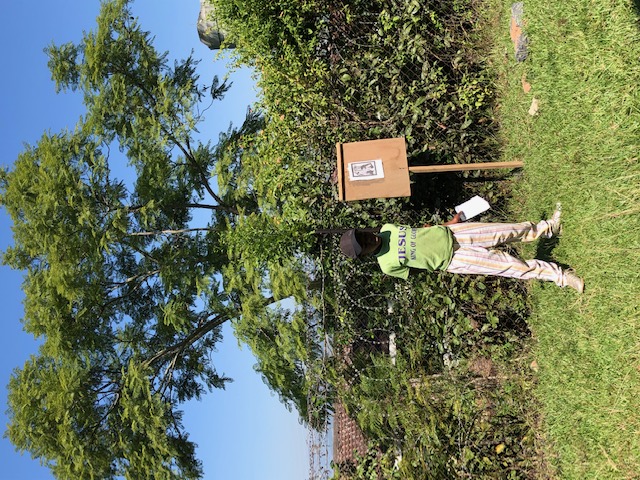 Azariah leading us below Hope Academy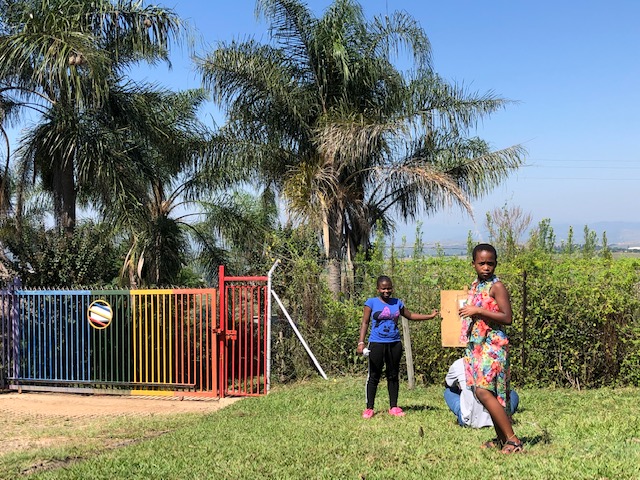 Jedidah leading us in the joyous 15 th station where the tomb is empty and Zhesus is alive having triumphed over evil, death and the grave. Halelujah
---
Passover Seder 2020
23-April-2019
Many of our young adults have returned home for the lockdown and do we're here to join the festivities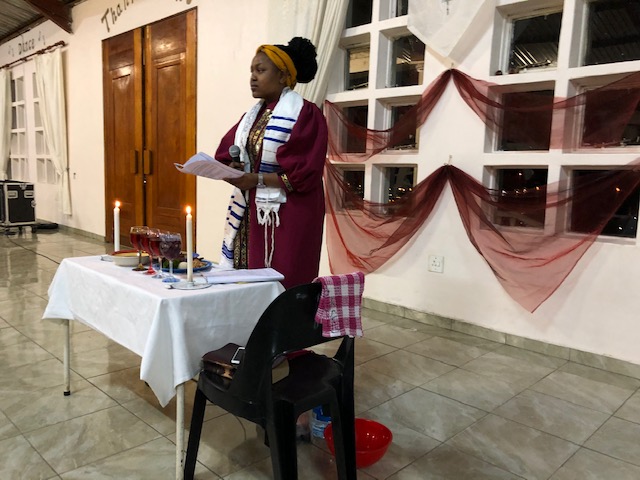 Debrah leading the entire Seder supper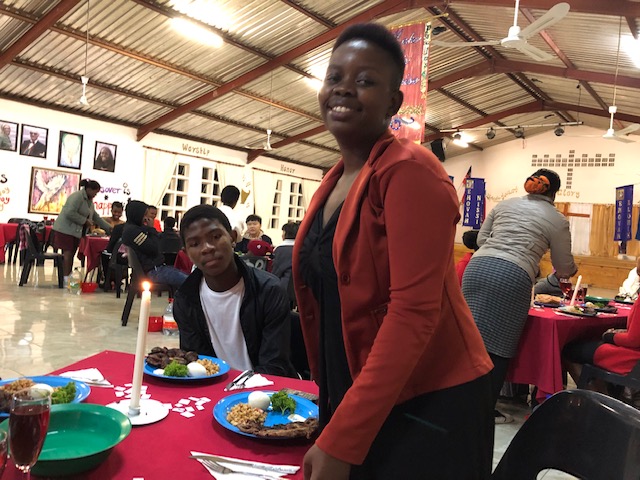 Tirzah lighting the Shabat candles
Noah blessing the home as the father of the house would bless his family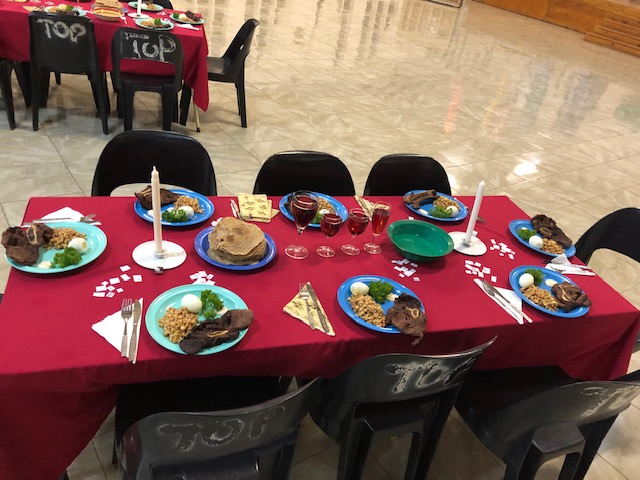 All the food prepared for the Passover Seder supper though we could not find lamb in the country as 2020 is a different year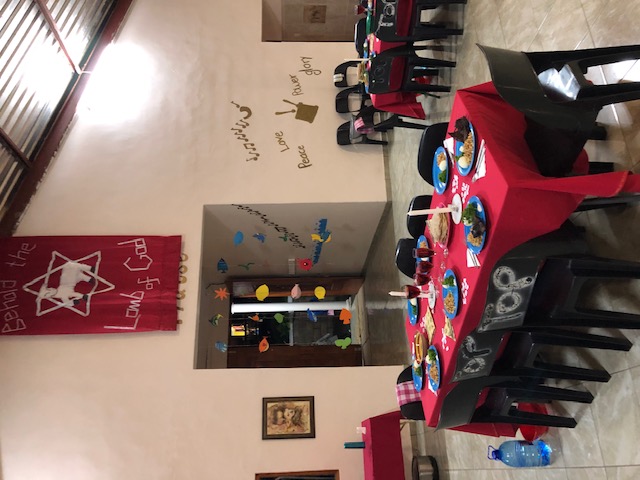 The banner of the lamb of God sacrifices for all peoples who will see hear and believe. The passage decorated by our Taiwsn art teachers and children as a symbol of passing through dry land in the Red Sea.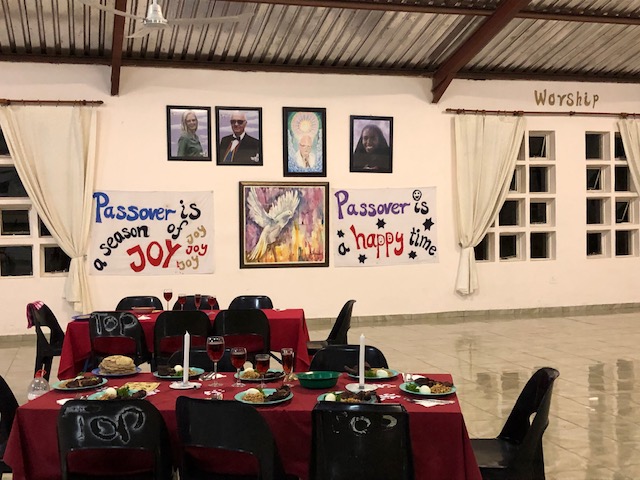 Passover is a joyous and happy time as we celebrate liberty deliverance obedience and trust in the Word of Almighty God Jehovah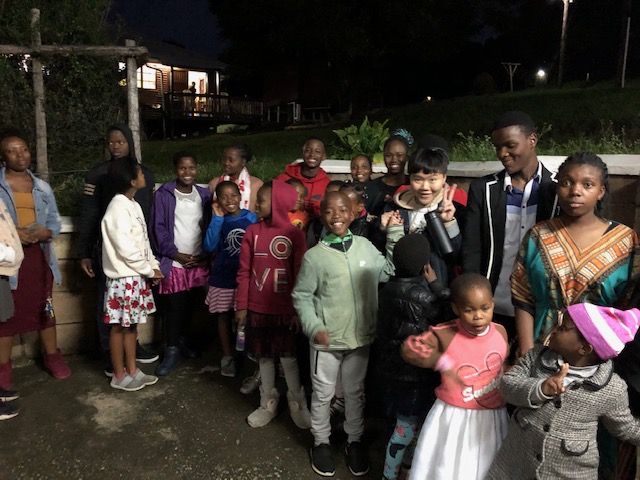 Everyone gathering excitedly to enter the special Passover dinner celebrated only once a year, a dinner like no other when we eat married charoseth, hard boiled eggs, unleavened bread, lamb and wine ( grape juice)